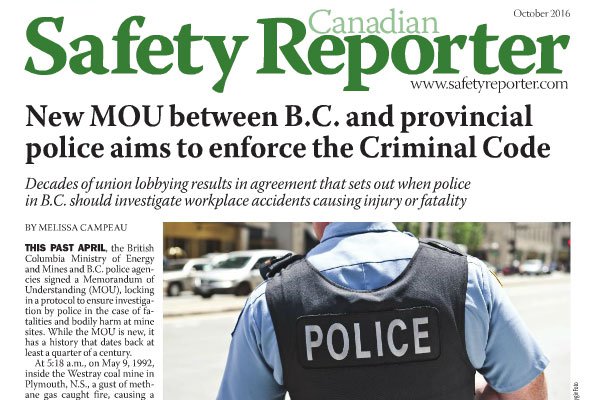 New MOU between B.C. and provincial police aims to enforce the Criminal Code
By Melissa Campeau
Original Source: Canadian Safety Reporter
This past April, the British Columbia Ministry of Energy and Mines and B.C. police agencies signed a Memorandum of Understanding (MOU), locking in a protocol to ensure investigation by police in the case of fatalities and bodily harm at mine sites. While the MOU is new, it has a history that dates back at least a quarter of a century.
With the new agreement, steps to take in the case of a bodily harm or a fatality at a mining site are clearly mapped out.
"This MOU deals with the bridging issue of jurisdictions," says Jason Beeho, a partner at Levitt LLP in Toronto. "When an incident happens, the first responder is the Ministry of Energy and Mines. Now, with the MOU, there needs to be a collaboration, a protocol in terms of determining how and when the police are brought into maters." Beeho adds, "The MOU says clearly, this is how the collaboration is going to work. There is a structure and a protocol for how and when the police are going to interact with the provincial health and safety authorities."
Impact on police involvement
"From a big picture, pragmatic point of view, there's a reason Bill C-45 has been invoked as infrequently as it has been over the past several years," says Beeho.
"The Ministry inspectors know what they're doing; that is what they do. And you've got the police departments who've got broad responsibility for enforcing all kinds of criminal law, and who don't always have the resources to pursue these things." He adds, "What this means is that, in the end, the police have not historically been involved unless we're talking about the most serious, the most egregious health and safety issue."
Until now, Beeho points out, the provincial health and safety authorities have had the discretion to determine when something is a police matter. The new MOU clearly spells out when police will step in.
"it's not going to mean that every time someone has a fall or breaks an arm the police are necessarily going to be on the scene," says Beeho. "The Ministry is still very much involved, still at the forefront, but the MOU formalizes and proceduralizes when and how the police become involved."