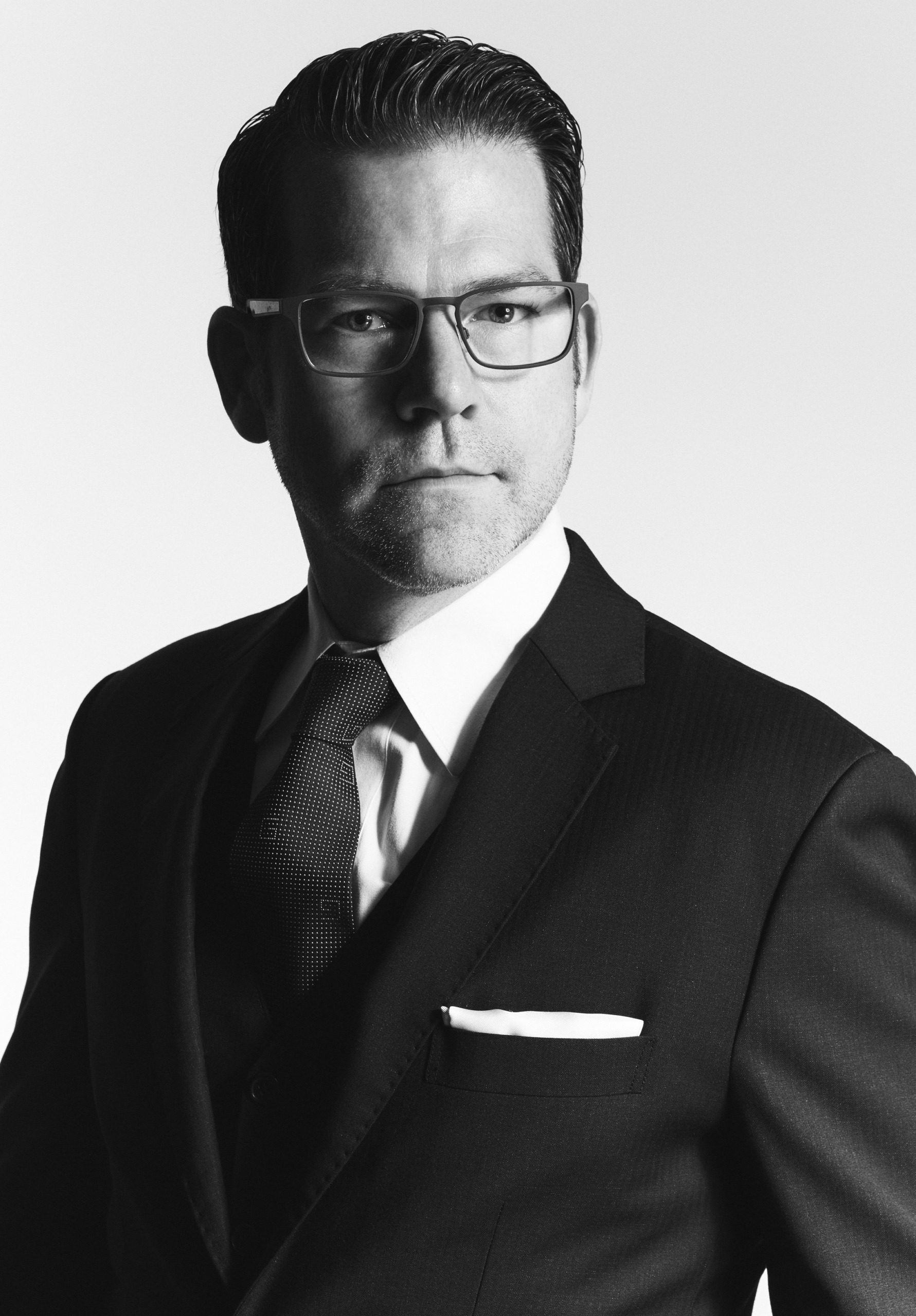 Rob Lilly is widely known and respected by other lawyers for his confidence and tenacity in everything he does. "Tireless", "whip-smart" and "compassionate" are how clients describe him. Whether negotiating a large long-term disability settlement or helping an executive get a bonus wrongfully withheld, Rob will not let up until justice is served.  He also genuinely cares about his clients.  Read Rob's reviews.
Rob is Levitt LLP's long-term disability law specialist.  He has recovered millions in long-term disability settlements for his clients.  He also practices in employment law, personal injury and commercial litigation.
He has appeared before all levels of court in Ontario including the Ontario Superior Court of Justice, Divisional Court of Justice and Court of Appeal along with various administrative tribunals.  Read Rob's recent cases.
Prior to joining Levitt LLP, Rob was a named partner at a disability and employment law firm for nearly five years.  Before that, Rob worked at a boutique employment and labour law firm and also for the largest insurance defence firm in Canada, where he learned the inner-workings of insurance companies and their weaknesses.
Rob received his law degree from the University of Victoria, where he developed his love for hiking and nature.
AREAS OF PRACTICE
Employment Law

Wrongful and Constructive Dismissal
Severance Package Review
Employment Agreement Review
Non-Competition and Non-Solicitation
Workplace Investigations
Absenteeism, Disability Leaves and Leave Management
Human Resources Policies
Discipline and Termination
Occupational Health & Safety
Human Rights and Duty to Accommodate
Discrimination, Harassment & Sexual Harassment

Disability Insurance Law

Long-Term Disability (LTD) Appeals and Claims
Short-Term Disability (STD) Appeals and Claims
Critical Illness and Accidental Death & Dismemberment (ADD) Insurance
Independent Medical Examination Advice
Life Insurance

Commercial Litigation and Shareholder Disputes
Insurance Defence and Insurance Coverage Litigation
Personal Injury
EDUCATION + CREDENTIALS
Called to the Ontario Bar, 2010
Called to the British Columbia Bar, 2008
J.D., LL.B., University of Victoria, 2007
Hons. B.A, University of Victoria, 2004
Recent Decisions
Read Reviews
L.W.
Toronto, ON, 55-years-old, Operations Manager
"I am so thankful Rob for all you've done for me. From the first time I spoke with you I knew I could trust you. You listened so patiently to my situation; and made me feel important.
It was very stressful for me when my LTD got cancelled. I was so worried I would have to return to work. I was employed for 21 years with the same Company, 5 of which I had to be on LTD for severe neck and back pain, along with anxiety and panic attacks. After speaking to Rob about my LTD cancellation he explained the options for my claim. Rob, your knowledge and understanding of my claim made it easy for me to focus on my health. I appreciate you were always available to talk to me even after office hours.
I cannot begin to tell you the how much I appreciate all you've done for me, I have a better future because of you. Getting my settlement changed my life.I would say you are The Best. You're confident in your ability to get the best for your clients.
Thank you, you changed my life."
F.B.
Guelph, ON, 58-years-old, Chief Executive Officer
"I was referred to Rob Lilly by a common friend.  I never met him, yet there was an immediate excellent work relationship.  Rob prudently but also forcefully and productively assisted me in a complex termination battle as former (Canadian based) CEO of an international professional organization. He managed superbly the legal AND the cultural complexities of my case, which also required affirming proper jurisdiction: an US incorporated entity, with a president from Argentina, a past president from South Africa and an ExCo roster which included a German, an American and an Indian.  Multicultural for sure.
Rob supported me working in perfect partnership, I found him fully reliable and trustworthy!  His legal expertise and strategic mind were superb.  Fast and considerate.  A fair person.
Long story short, the US lawyer folded quickly.  The more militant members of ExCo try to drag the process causing delays but eventually folded as well.  Their cultural diversity had (were advised by their lawyer ) to defer to Canadian law, a point masterfully argued by Rob!  The final transaction was financially very satisfactory.
Can only say: THANK YOU Rob!  Highly recommended!"
­­­­­T.I.
Bradford, ON, 45-years-old, Program Administrator
"I wanted to Thank You for all of help, support and professionalism with my case. I never thought in a million years I would of been going through this situation but sometimes in life there is no exceptions, but I am glad that I had the best person and team alongside during this transition. I will gladly recommend your services to anyone that may ever need it. Thank you again for your help."
R.S.
Toronto, ON, 52-years-old, Forensic Engineer
"Following my decision to leave a Senior Principal position with a consultancy in Toronto (defendant) after 11 years of service, to assume a Managing Director position with a consultancy in London, England, there was bonus from 2016 and commissioned related salary from 2017 outstanding. The amount outstanding exceeded $100K, with the majority being commission related salary. My diplomatic efforts with the defendant were disappointingly met with rejection. I subsequently retained Rob Lilly, and he quickly grasped the matter at hand. Rob developed a strategy with a decision tree, identifying the diverse options with recommendations and timelines, and accelerated the matter considering the various dynamics within the defendant's operations. In addition to preparing a winning case referencing the contract and case law, he was exceptionally armed to address, or counterattack extraneous case law referenced by the defendant. I felt that Rob was thinking three to four steps ahead of the defendant, and through his preparedness, skill, and professionalism, he politely and effectively convinced the judge of the merits of our position and the invalidity of the defendant's position. Rob achieved 100% success in this matter. Rob Lilly and his team are exceptional!"
M.A.
Pickering, ON, 63-years-old, Media Analyst
"Rob Lilly, Thank you so very much for all the work you have done and the so pleasing results. You made this your battle and you won! Thank you.
You have been excellent with us: clear, supportive and helpful, not to mention a determined and assertive desire to succeed."
D.C.
Brantford, ON, 62-years-old, Manufacturing Operations Manager
"After 44 years of employment with the same company, my position was eliminated. In my opinion the package offered to me was not a fair settlement and not close to industry standards. Through a mutual friend's advise, I contacted Rob Lilly. After an initial discussion with Rob by phone. He immediately put me at ease. He explained the game plan we were to follow and the probable outcome. His knowledge of the law and his ability to explain it to me in a way that I understood made me feel comfortable with the whole process. I was extremely pleased with the outcome…It was as he stated in our plan. He's the fighter you want on your team !"
T.M.
Pickering, ON, 39-years-old, Administration (Not-For-Profit)
"Professional, PROMPT, knowledgeable, and extremely accessible are the words I would use to describe my recent experience with Rob Lilly. After a stressful time trying to determine whether or not to simply sign the termination agreement, I was lucky enough to stumble upon severancepay.ca to help estimate what a fair offer should have been. After leaving my contact information on a Sunday afternoon, I heard back from Rob Lilly himself the very next morning and he was able to provide me with a consultation on the spot over the phone. From that moment on, Rob has been extremely accessible via phone and email with a response time within 24 hours, and worked with me in a very transparent and professional manner through each and every step of the process. The negotiation was handled swiftly and a settlement was reached well in advance of Rob's estimated timeline. The service I received from the very onset was much better than any other firm I reached out to when trying to seek out a consultation and do my own due diligence. I am very thankful to have worked with Rob and I highly recommend Rob Lilly for the best employment representation you can find!"
A.C.
Oakville, ON, 37-years-old, Accounting
"After 14 years of employment I found myself unemployed. In my opinion the package offered to me was not a fair settlement. Rob Lilly's personality immediately put me at ease. His knowledge of the law and his ability to explain it to me in a way that I understood made me feel comfortable with the whole process. I was extremely pleased with the outcome…It was above and beyond what I expected. He's the fighter you want in your corner!"
E.F.
Hamilton, ON, 55-years-old, Supervisor
"I was let go after 26 years of loyal service for my employer. I was offered a low-ball severance package based on the employment standards minimum entitlements. Rob Lilly tore through the termination clause in my employment agreement to get me 24 months' notice instead of a mere 8 months first offered. He tripled my package, plus got the employer to pay my legal fees. Thanks again for everything, Rob."
L.A.
Peterborough, ON, 33-years-old, Design & Marketing
"My employer gave my job to someone else when I tried to come back from maternity. Rob was able to quickly turn a stressful situation into a relatively painless one. He handled everything for me and was quick to respond to all my questions. I genuinely felt taken care of and would recommend Rob Lilly to anyone who finds themselves in a labour dispute.
R.G.
Mississauga, ON, 44-years-old, Telemarketing
"Within minutes of talking to him, I knew Rob Lilly was the lawyer for me. He understood I was under a lot of stress and immediately put me at ease with his ability to answer all of my questions and give me realistic advice. He told me exactly how much it was cost and how much long the process would take. He resolved my claim in less than one week by getting me far more severance than I even thought was possible."
G.C.
Toronto, ON, 54-years-old, Project Manager, Information Technology
"I would not hesitate to recommend Rob Lilly to anyone who finds themselves in need of a great employment lawyer. He's a very smart and compassionate lawyer who really knows his way around the legal system, a great negotiator and someone you can count on to be there for you. He's not only an outstanding lawyer, but an outstanding person as well!"
S.R.
Sarnia, ON, 63- years-old, Surgeon
"I recently went through an unnecessarily prolong employment legal issue. On advice, I went to a litigator but after several years of little or no action and little contact I switched to Rob Lilly. Rob obtained a fair mediated settlement shortly after my first contact. Rob is very personable, extremely knowledgeable and intelligent, very well spoken and respected by other lawyers and mediators. He was always available either by phone or email and always explained my situation in terms that I could handle. Rob Lilly is definitely the person to hire for any employment legal issues.
B.L.
Toronto, ON, 64-years-old, CEO of Management Consulting Firm
"I was shocked to learn that my former partner had short changed me on a major project, taking hundreds of thousands of dollars that rightly belonged to me. As soon as I met Rob I was confident that he would save the day. His professionalism and knowledge of the law impressed me. Through aggressive litigation we were able to follow the trail, get a judgement in our favor and through mediation, agree a settlement. Despite this, the former partner kept delaying payment and then began to liquidate his personal holdings and flee the country. Rob had him served on a deserted beach in another country. How satisfying! Rob returned to the courts winning an order to seize assets and garnish funds. Our cash settlement was received 24 hours later. A have to say that despite the difficulties and delays we had to overcome, Rob moved like lightning at just the right times, his bill was very reasonable and the outcome was all I hoped for. Furthermore it was a pleasure working with Rob throughout the ordeal and I highly recommend Rob when you need legal expertise."
G.C.
Ottawa, ON, 52-years-old, Assistant Director, Finance
"Throughout the entire legal process, Rob Lilly was always available to answer my questions and concerns, and often sacrificed his personal time to ensure that I had priority. He provided me with very thorough and regular updates, and he did so in a way that helped clarify the issues and processes while at the same time putting my mind at ease. I cannot emphasize how much that meant to me."
P.M.
Uxbridge, ON, 54-years-old, Vice President, Energy Consulting Firm
"Suffice it to say, my case was definitely not an easy one to take on, yet Rob was able to obtain a settlement for me that more than exceeded my expectations. I could not have been more pleased with the outcome!"
J.J.
Orillia, 57-years-old, Department Manager
"I needed a lawyer for a wrongful dismissal case after 30 years of service. After consultations with two lawyers and not feeling good about either, I got a phone call from Rob Lilly. After talking to him for only a few minutes I knew he was what I needed. Rob walked me through the process and made me feel confident that I was going to get what I deserved. Rob kept me informed with all correspondence between him and the defendant. With his knowledge, professionalism, wit and desire, he got me the settlement that I was looking for at a very reasonable cost. If you need an employment lawyer, there in no better than Rob Lilly."
J.N.F.
Toronto, ON, 47-years-old, Warehouse Management
"My employer had fired me after 17 years of service, and paid me nothing. They said they had "cause" to fire me. Rob started a legal action against my former employer and convinced them to settle. I was very pleased with Rob's efforts and the end result."
M.J.
Toronto, ON, 29-years-old, Hi-Tech Industry
"Rob, thank you for all your hard work on my case. I'm very happy with the end result and settlement you negotiated for me. It was a stressful situation and I appreciate your time and effort to move my case along quickly. Thanks for doing a great job!"
S.T.
Toronto, ON, 44-years-old, Operations Manager, Health Care Industry
"I really appreciate all your support, commitment and wise decisions. Rob, without your help, the matter may not have been settled in a positive outcome. I thank you from the bottom of my heart."
I.H.
Mississauga, ON, 36-years-old, Senior Director, Communications Industry
"Hello Rob Lilly, I am very ecstatic over my results. Thank you ever so much for all your assistance in the matter. I am truly grateful for all your effort and time. If I ever encounter anyone with a need for an excellent lawyer, like yourself. I will definitely recommend you. Once again, thank you."
K.L.
Windsor, ON, 44-years-old, Area Supervisor, Healthcare Industry
"I was placed on a performance improvement plan by a new manager who obviously wanted me to quit. The situation was unfair and caused me considerable stress and emotional pain. Rob not only helped me exit with a good severance package, but I was able to protect my reputation."
H.T.
Waterloo, ON, 45-years-old, Manager, Technology Industry
"The first conversation that I had with Rob, I knew he was the lawyer that I wanted to handle my matter. The depth and breadth of his knowledge coupled with the confidence he had in being able to get me a fair settlement gave me a great level of peace. Rob got me exactly what I wanted, which is what we talked about in that first conversation."
H.K.
Burlington, ON, 54-years-old, Finance
"I was put on a performance improvement plan by my new manager. I felt that this was unfair and only done for personal reasons. Rob Lilly was able to remove me from that job —- with a great severance package and a letter of recommendation! I am so glad I hired him."
D.C.
Scarborough, ON, 32-years-old, Machine Operator
"After losing my job of many years and being denied the severance I was entitled to because my employer said I quit, I contacted Rob Lilly. He was very professional and knowledgeable. It was easy for me to feel comfortable and trust him with my case. He made the whole process very easy and we had a settlement within just a few months. I would highly recommend him to friends and family and whomever is need of a great lawyer."
D.M.
St. Catharines, ON, 61-years-old, Trade Worker
"When I was terminated, I tried to negotiate my own severance package. As soon as I did that, my employer falsely accused me of theft. This was an intimidation tactic. Rob Lilly sent them one letter and it settled! He knows his stuff. I've since recommended him to a co-worker. Rob is awesome."
J.S.
Brampton, ON, 48-years-old, Supervisor in Airline Support
"Rob put money in my pocket and bought some much needed time to arrange my life, and its that simple! He's a great guy and lawyer."
K.G.
Toronto, ON, 52-years-old, Senior Manager, Information Technology
"I worked with Rob Lilly at Levitt LLP; his highly responsive, thorough approach in navigating negotiations delivered peace of mind during an unsettling time.  From beginning to end the process was both effective and efficient.  Rob's level of knowledge and support were outstanding, while ensuring I was clear on options and expectations at all times.  While I hope to never need their services in the future, this was a great experience.  I would highly recommend Levitt LLP."
Disclaimer: Please note that past results are not necessarily indicative of future results and settlement amounts and other litigation outcomes will vary according to the facts in individual cases.