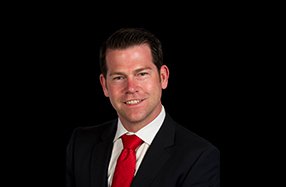 About Rob Lilly
Rob Lilly is widely known and respected by other lawyers for his confidence and tenacity in everything he does. "Tireless", "whip-smart" and "compassionate" are how clients describe him. Whether negotiating a large long-term disability settlement or helping an executive get a bonus wrongfully withheld, Rob will not let up until justice is served.  He also genuinely cares about his clients.  Read Rob's reviews.
Rob is Levitt LLP's long-term disability law specialist.  He has recovered millions in long-term disability settlements for his clients.  He also practices in employment law, personal injury and commercial litigation.
He has appeared before all levels of court in Ontario including the Ontario Superior Court of Justice, Divisional Court of Justice and Court of Appeal along with various administrative tribunals.  Read Rob's recent cases.
Prior to joining Levitt LLP, Rob was a named partner at a disability and employment law firm for nearly five years.  Before that, Rob worked at a boutique employment and labour law firm and also for the largest insurance defence firm in Canada, where he learned the inner-workings of insurance companies and their weaknesses.
Rob received his law degree from the University of Victoria, where he developed his love for hiking and nature.
Practice Areas Include:
Employment Law

Wrongful and Constructive Dismissal
Severance Package Review
Employment Agreement Review
Non-Competition and Non-Solicitation
Workplace Investigations
Absenteeism, Disability Leaves and Leave Management
Human Resources Policies
Discipline and Termination
Occupational Health & Safety
Human Rights and Duty to Accommodate
Discrimination, Harassment & Sexual Harassment

Disability Insurance Law

Long-Term Disability (LTD) Appeals and Claims
Short-Term Disability (STD) Appeals and Claims
Critical Illness and Accidental Death & Dismemberment (ADD) Insurance
Independent Medical Examination Advice
Life Insurance

Commercial Litigation and Shareholder Disputes
Insurance Defence and Insurance Coverage Litigation
Personal Injury
Education & Credentials:
Called to the Ontario Bar, 2010
Called to the British Columbia Bar, 2008
J.D., LL.B., University of Victoria, 2007
Hons. B.A, University of Victoria, 2004
Recent Decisions:
Read Reviews
L.W.
Toronto, ON, 55-years-old, Operations Manager
"I am so thankful Rob for all you've done for me. From the first time I spoke with you I knew I could trust you. You listened so patiently to my situation; and made me feel important.
It was very stressful for me when my LTD got cancelled. I was so worried I would have to return to work. I was employed for 21 years with the same Company, 5 of which I had to be on LTD for severe neck and back pain, along with anxiety and panic attacks. After speaking to Rob about my LTD cancellation he explained the options for my claim. Rob, your knowledge and understanding of my claim made it easy for me to focus on my health. I appreciate you were always available to talk to me even after office hours.
I cannot begin to tell you the how much I appreciate all you've done for me, I have a better future because of you. Getting my settlement changed my life.I would say you are The Best. You're confident in your ability to get the best for your clients.
Thank you, you changed my life."
F.B.
Guelph, ON, 58-years-old, Chief Executive Officer
"I was referred to Rob Lilly by a common friend.  I never met him, yet there was an immediate excellent work relationship.  Rob prudently but also forcefully and productively assisted me in a complex termination battle as former (Canadian based) CEO of an international professional organization. He managed superbly the legal AND the cultural complexities of my case, which also required affirming proper jurisdiction: an US incorporated entity, with a president from Argentina, a past president from South Africa and an ExCo roster which included a German, an American and an Indian.  Multicultural for sure.
Rob supported me working in perfect partnership, I found him fully reliable and trustworthy!  His legal expertise and strategic mind were superb.  Fast and considerate.  A fair person.
Long story short, the US lawyer folded quickly.  The more militant members of ExCo try to drag the process causing delays but eventually folded as well.  Their cultural diversity had (were advised by their lawyer ) to defer to Canadian law, a point masterfully argued by Rob!  The final transaction was financially very satisfactory.
Can only say: THANK YOU Rob!  Highly recommended!"
­­­­­T.I.
Bradford, ON, 45-years-old, Program Administrator
"I wanted to Thank You for all of help, support and professionalism with my case. I never thought in a million years I would of been going through this situation but sometimes in life there is no exceptions, but I am glad that I had the best person and team alongside during this transition. I will gladly recommend your services to anyone that may ever need it. Thank you again for your help."